---
Insert Earphones for fMRI Research - Model S14 - $2400
Features
High-Quality Calibrated Audio
Flat Response Over 100Hz - 8 kHz Bandwidth
Output Levels in the Ear Canal up to 110 dB SPL
Sound Attenuation from Replaceable Comply Canal Tips
Custom Digital Equalization Filters
EQ Filtering 2.2 - Software for Windows XP/Vista/7/8
MATLAB Functions for Loading S14 Filters (see our downloads page for details)
Current S14 Users, please click here to download the EQ Filtering 2.2 software update.

---

Model S14 System Includes
Binaural Earphones with 1 Meter Cables
9 Meter Cable
Small Transformer Box
Custom Digital EQ Filters
EQ Filtering Software
High-Impact Carrying Case
6 pairs of Comply Foam Ear Canal Tips
---
The S14 insert earphones provide high-quality acoustic stimulus delivery while attenuating scanner noise. They are small enough to fit within any head coil, and can be covered with circumaural muffs for added protection if the coil allows. Replaceable Comply(TM) Canal Tips ensure sanitary conditions.
Frequency response equalization is achieved by pre-filtering stored digital stimuli. Equalization filters are provided and can be used either within Matlab or with a stand-alone filtering program (provided). A small power amplifier is required.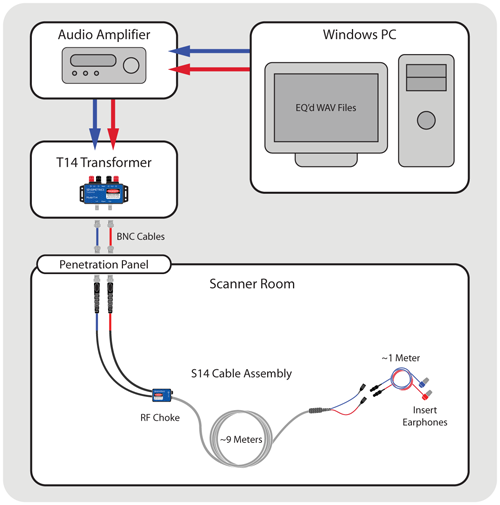 ---
Optional Accessories