Research
---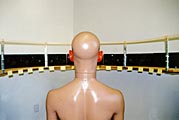 Sensimetrics conducts basic and applied research, and develops products, in speech, hearing, and related areas. Drawing on the expertise and innovation of its research staff, Sensimetrics has compiled an impressive record of technology development supported by grants and contracts from the National Institute on Deafness and Other Communicative Disorders, the Department of Defense, and other governmental agencies and private corporations.
---
The following is a summary of the major research projects currently underway at Sensimetrics.
Binaural Capture and Synthesis of Ambient Soundscapes
(Principal Investigator: J.G. Desloge)
A soundscape is the acoustic analogue of a visual landscape and comprises the acoustic events heard by a person in a given environment. A soundscape incorporates not only sound content, but also sound location and any propagation effects (such as reverberation). Soundscapes are very diverse, ranging from simple and static to complex and dynamic, and no environment can be described completely without its associated soundscape. Because of the importance of the acoustic surround, it is useful to be able to capture soundscapes in much the same manner as video recordings capture the visual environment. This project is aimed at developing system for recording and playing back soundscapes while preserving the richness of the original acoustic environment. [Work sponsored by the Air Force Office of Scientific Research.]


Motivational Tool for Hearing Conservation Based on Hearing Loss Simulation
(Principal Investigator: P.M. Zurek)
This project is aimed at developing a more effective motivator for people to safeguard their hearing. The presentation system uses simulations of hearing loss to demonstrate the potential consequences of over-exposure to loud sounds for everyday activities such as speaking with others and listening to music. The multimedia presentations created by the system are customizable to individual or group characteristics in both occupational and recreational settings. [This work is being done in collaboration with Dr. Jennifer Tufts of the University of Connecticut and is supported by a grant from NIH/NIDCD.]


Decoding Speech Using Neural Rhythmicity and Synchrony
(Principal Investigator: O. Ghitza)
Speech is an inherently rhythmic phenomenon. Phonetic segments are articulated in syllabic "packages" that are spoken in cadence, producing energy modulations at rates between 3 and 20 Hz. The intonation contour is also rhythmic. Do speech rhythms reflect fundamental neural mechanisms? The main thesis of this project is that many temporal properties of spoken language reflect not merely articulatory constraints but also higher-order principles of cortical function. Tests of whether brain rhythms affect the intelligibility of speech are being conducted using sentences with either disrupted syllabic rhythm or altered durations of phonetic segments. The data are being used to test a computational model of speech processing based on neural rhythmicity. [This work is being done in collaboration with Dr. Steven Greenberg of Silicon Speech and is supported by the Air Force Office of Scientific Research.]

Binaural and Spatial Hearing
(Principal Investigator: P.M. Zurek)
This area of work encompasses basic research into questions of how people use their two ears to localize sounds and to understand speech in noisy and reverberant environments. Of special interest is the study of phenomena related to the precedence effect in sound localization. [This work is being done in collaboration with Dr. Steve Colburn of Boston University and Dr. Richard Freyman of the University of Massachusetts. It is supported by grants from NIH/NIDCD.]


Adaptation of a Hearing Loss Simulator for Military Use in Hearing Conservation Programs
(Principal Investigator: P.M. Zurek)
It is important for noise-exposed individuals to understand what may happen to their hearing if hearing protection is not used. The goal of this project is to develop efficient and effective tools for delivering custom demonstrations of possible hearing loss to military personnel. One such tool, partially supported by this project, is Sensimetrics' Hearing Loss and Prosthesis Simulator (HeLPs). HeLPS is a comprehensive software system for creating hearing loss simulation for use in hearing-conservation and audiology settings. In addition to HeLPS, this project is developing a system for creating multimedia presentations that are custom tailored to individual expected hearing losses and the interests of the target audience. It allows user specification of audiograms (including conductive and sensorineural components), tinnitus (tonal or noise), hearing aids, and a listening library that allows the noise-exposed worker to select sounds of most interest. [This work is being done in collaboration with Dr. Lynne Marshall of the Naval Submarine Medical Research laboratory and is supported by the Office of Naval Research.]

A Wireless Self-Contained Tactile Aid
(Principal Investigator: T.E. von Wiegand)
This work is aimed at the development of a tactile aid for the deaf contained entirely in a single small unit that can be worn on an arm like a wristwatch. Two models of such a tactile aid will eventually be developed. The first, which is the primary motivation for this effort, is a unit that provides speech-based tactile stimulation for infants and young children during the time period when they are awaiting a cochlear implant. This unit is a small vibration-display device designed with special attention given to the safety and usage requirements for this population. A second model will be an adult unit that will be slightly larger than the children's unit and will contain additional wireless receiver functionality for displaying alarms signaling remote events (e.g., doorbell, smoke alarm) and for delivering speech sensed by a remote microphone. [Work supported by a grant from NIH/NIDCD.]

Improved Sound Processing for Hearing Devices
(Principal Investigator: R. Goldsworthy)
We are actively pursuing improved sound processing for hearing aids and cochlear implants. A current focus point is on the development of improved multiple microphone noise reduction strategies. We have developed novel noise reduction strategies that take advantage of multiple microphones over a single ear, as well as for over both ears. Our evaluations illustrate substantial benefit of these strategies for listeners in the presence of background noise. [Work supported by a grant from NIH/NIDCD.]

Acoustic Processing of Speech to Improve Electrolarynx Communication
(Principal Investigator: H. Cheyne)
Over half of laryngectomy patients use an electrolarynx (EL) to communicate, but current EL devices produce speech that has poor quality ("non-human sounding") and reduced intelligibility. The acoustic deficits in EL speech inhibit the ability of laryngectomy patients to communicate, thus reducing their functional capability and quality of life. The long-term goal of this project is to develop real-time speech processing technology to improve the naturalness and intelligibility of EL speech, thereby improving EL communication and the quality of life for laryngectomy patients. [This work is being done in collaboration with Dr. Robert Hillman of Massachusetts General Hospital and is supported by a grant from NIH/NIDCD.]

Hand-Operated Speech Synthesis
(Principal Investigator: H. Cheyne)
Many people who lose their voice due to trauma or cancer rely on a text-to-speech (TTS) system or an electrolarynx (EL) to produce speech. State-of-the-art TTS systems can provide intelligible and somewhat natural speech at a rate as fast as the user can type, while an EL can produce speech at a normal rate but with decreased naturalness and intelligibility. This research explores a person's potential for controlling the HLsyn speech synthesizer in real time with one hand using a pen-like device, a strategy that could produce intelligible speech at a normal rate that is more natural than either a TTS system or EL speech. [Work supported by a grant from NIH/NIDCD].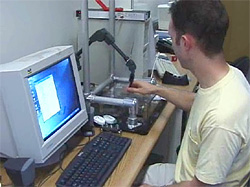 Click here to see and hear videos of the One Hand Operated Synthesizer