As of December 2016, due to incompatibilities with the most recent version of Apple QuickTime (Version 7.7.9), Sensimetrics can no longer sell or support Seeing and Hearing Speech.
Users of Seeing and Hearing Speech who install or upgrade to QuickTime Version 7.7.9 will find that Seeing and Hearing Speech will no longer function on any Windows operating system.
User of Seeing and Hearing Speech using earlier versions of QuickTime (Version 7.7.8 and earlier) will function as intended on all Windows operating systems.
Sensimetrics cannot recommend the installation of earlier version of QuickTime (such as Version 7.7.8 and earlier) due to potential security risks, but installers for earlier versions of QuickTime may be found online at your own risk.
If you own Seeing and Hearing Speech, you may find the following resources useful:
–Frequently Asked Questions
–User Guide and Installation Guide
This interactive tool from Sensimetrics Corporation contains carefully planned lessons that help people combine what they see with what they hear to understand speech better. Seeing and Hearing Speech uses the latest multimedia technology and computer-aided learning techniques to provide extensive, convenient lipreading training on computers running Windows.
Of all the sounds to which we are exposed, speech is by far the most important. Speech provides a direct communication link to other people – family, friends, co-workers – as well as access to information and entertainment from radio, television and recordings. The impairment in speech communication that accompanies hearing loss can lead to feelings of frustration and social isolation. Hearing aids can help, but they usually do not restore hearing to normal.
It is understandable that people with hearing impairment should seek to enhance their ability to combine visual and auditory information for understanding speech. Unfortunately, lipreading training is not widely available, and even when training is offered, it is usually given in brief sessions at an audiologist's office. Now this training can be given conveniently and at your own pace on a personal computer.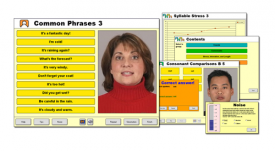 "[Seeing and Hearing Speech] is easy to use, and the instructions are clear.  The software is nicely organized with straightforward navigation.  The video recordings are very clear.  The speech samples are produced by a variety of talkers, some easy to lipread, others more difficult.  Rehabilitative audiologists should find it a valuable addition to their tools chest, and it will be enthusiastically received by many of their clients."  Arthur Boothroyd, Ear and Hearing, February 2003
Hardware Requirements
Intel® Pentium® III or faster processor
Microsoft Windows® XP/Vista/7/8/10
256 MB (or more) RAM
500 MB of available hard disk space
CD-ROM/DVD-ROM drive