Products
---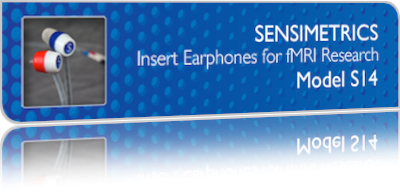 The S14 Insert Earphones for fMRI Research are designed to provide both high-quality acoustic stimulation and hearing protection from scanner noise. They are small enough to fit within any headcoil, and can be covered with circumaural muffs for added protection if the coil allows.
---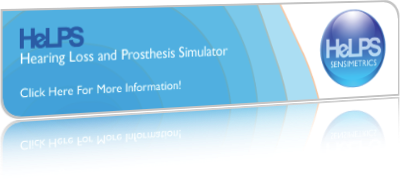 HeLPS - (Hearing Loss and Prosthesis Simulator) delivers accurate interactive demonstrations of the communication difficulties caused by individual hearing losses, the improvements possible with custom-fit hearing aids or cochlear implants, and the importance of speechreading and clear speaking. HeLPS was designed to improve client/family understanding of both hearing loss and available treatment options. It allows real-time control of simulated conductive and recruiting hearing loss, tinnitus, compression hearing aids, and multiple channel implants. HeLPS is a valuable demonstration tool for audiologists working in family counseling, aural rehabilitation, hearing conservation, or professional education. Click here for demos of hearing loss simulations created with HeLPS.
---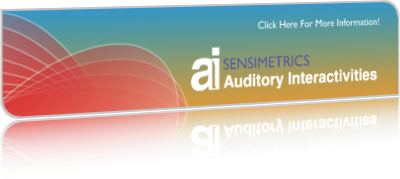 Auditory Interactivities turns any Windows computer into a personal psychoacoustics laboratory, providing an engaging way for students to learn and explore auditory perception interactively. Fifty-eight lessons cover basic topics in signal analysis and acoustics, auditory detection and discrimination, masking, temporal resolution, binaural and spatial effects, and pattern perception. Lessons use fully-interactive on-screen control of laboratory instruments -- signal generators, filters, switches, attenuators – that allow classic hearing science demonstrations and experiments to be replicated and extended.
---

Seeing and Hearing Speech: Lessons in Lipreading and Listening enables people with hearing loss to train and practice lipreading at their own pace on their home computer. This interactive software contains carefully planned lessons that help people combine what they see with what they hear to understand speech better. Seeing and Hearing Speech provides extensive and convenient lipreading training on Windows computers. For more information, please visit the Seeing and Hearing Speech product website at www.seeingspeech.com.
---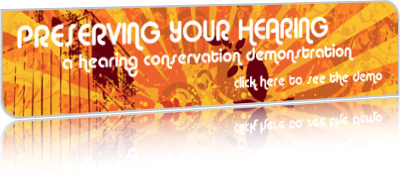 Preserving Your Hearing is a computer-based presentation aimed at motivating hearing conservation among middle- and high-school students. This 3 minute presentation uses hearing loss simulation applied to speech and rock music to demonstrate the effects of mild, moderate, and severe hearing loss, tinnitus and hearing aids. Originally developed as an exhibit for visiting students at the 2007 AAA meeting in Denver, Preserving Your Hearing is now available to the hearing conservation community as a free download.
---
Click here for discontinued Sensimetrics product support and information.