One-Hand-Operated Speech Synthesis
Many people who lose their voice due to trauma or cancer rely on a text-to-speech (TTS) system or an electrolarynx (EL) to produce speech. State-of-the-art TTS systems can provide intelligible and somewhat natural speech at a rate as fast as the user can type, while an EL can produce speech at a normal rate but with decreased naturalness and intelligibility. This research explores a person's potential for controlling the HLsyn speech synthesizer in real time with one hand using a pen-like device, a strategy that could produce intelligible speech at a normal rate that is more natural than either a TTS system or EL speech.
Video Examples of the One-Hand-Operated Synthesizer
"How are you?" and vowel sounds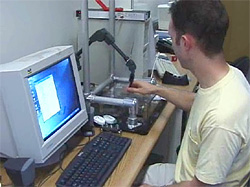 runtime: 1min. 9secs.



Apple Quicktime:
OHS - How Are You.mov 320x240 8.99MB

Windows® Media:
OHS - How Are You.wmv 640x480 6.71MB
More One Hand Synthesis videos:

Windows® Media:
OHS - Diphthongs.wmv 320x240 2.78MB
OHS - Extras.wmv 320x240 3.67MB
OHS - Miscellaneous.wmv 320x240 5.60MB
OHS - Phrases 1.wmv 320x240 3.64MB
OHS - Phrases 2.wmv 320x240 5.59MB
OHS - Question vs Period List 1.wmv 320x240 3.47MB
OHS - Question vs Period List 2.wmv 320x240 3.44MB
OHS - R - Final.wmv 320x240 2.58MB
OHS - R - Initial.wmv 320x240 1.97MB
OHS - Vowels.wmv 320x240 2.69MB
OHS - W - Initial Word List 1.wmv 320x240 2.23MB
OHS - W - Initial Word List 2.wmv 320x240 3.46MB
OHS - Y - Initial Word List 1.wmv 320x240 2.55MB
OHS - Y - Initial Word List 2.wmv 320x240 2.31MB